Polkacide:

World's Loudest Polka Band
Press Kit
8x10 B/W photo -- 2.17mb .pdf | smaller B/W photo -- 129kb .jpg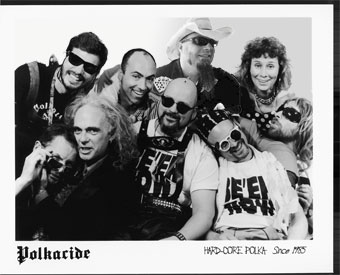 8x11 Sepia photo - backs -- 2.9 .pdf | Polkacide Backs at Bar -- 174kb .jpg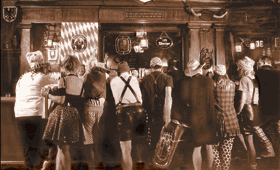 Polkacide is available to perform for events of any kind, from the raucous and wild to the absurd or sublime. We play festivals, dance halls, brewpubs, clubs, private parties...wherever hardcore polkas
and big fun are wanted.
Reviews can be found on our reviews page.
To book the band contact Ward Abronski at (650) 271-1115
or Polkacide Central Booking.
To add yourself to our e-mail list tell PolkaMomma .
To receive pertinent info relating to band activities via snail mail,
zap JX Jones an email.
For anything website related: web meistress
You can also visit Polkacide at MySpace and become our friend. Or visit our article at Wikipedia (http://en.wikipedia.org/wiki/Polkacide) and help us reference the material.
Date last revised: February 13, 2010